Columbusjobs.com|Monster
Let the capabilities of columbusjobs.com & monster take your recruiting efforts to the next level. We have a number of tools designed to help you find ideal candidates for your job vacancies. Columbusjobs.com & monster can proudly offer print, online, mobile and social media recruiting solutions.

Employer Mobile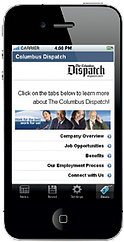 ColumbusJobs.com job seekers hold the power of their searches in the palms of their hands. Engage targeted candidates from any location. Five-page mobile site, branded to your company with customizable color, images, copy, and custom pages that can include videos, links, and maps.
Features:
"Apply Now" with the push of a button, a candidate can easily send his/her resume and profile in response to a particular job posting.
Up to 5 SMS Codes to direct users to your site.
Reporting & Analytics - Measure traffic and ROI from wherever consumers access mobile content.

Become A Featured Employer
Be part of a Featured Employer package and increase your job seeker traffic and results. Choose between mobile, online, social, or print Featured Employer ads.

Enhanced Job Branding
Enhanced Job Branding (EJB) is a customized online design which adds color, logos, graphics, and other images to all of the client's job postings for one full year.
Key Benefits:
Differentiates company and job postings from the competition
Increases brand presence
Drives candidates to all open positions
Creates custom designed templates to match company brand and message

Diversity and Inclusion
Monster Diversity & Inclusion solutions enable recruiters to tap into a unique and talented pool of candidates who tend to seek out employers who value and actively recruit diverse talent. These products span Job Posting, Resume Search and media campaign options, extending the recruitment reach to over 35 million additional job seekers and resumes through Monster's strategic partner network.

Monster Video
Monster Video is a turnkey video solution which enables your customers to add a short video to their job postings giving candidates more information about the company, job, culture, and more.
Two options are available:
Video Jobs: A 30-second job specific video featuring details about the posted position.
Monster Profile: A 30-60 second corporate profile highlighting the overall company and potential careers.
Power Resumé Search
evaluates a job seeker's résumé as an experienced recruiter would, matching candidates to your position based on work history, skills, education and location. It also analyzes, rates and ranks résumés based on how relevant and recent the seeker's qualifications are. You can then see, at a glance, all of the information related to the top candidates on one page. For details, visit MonsterPowerResumeSearch.com.
Social Recruiting
Recruiting via social networking allows you to take your candidate search to Facebook and Twitter. Monster brings the jobs you already post on columbusjobs.com/monster into your customized public profiles. This allows you to extend your recruitment brand and develop relationships with the millions of active and passive job seekers who are friending and tweeting daily.
Monster Match
Monster Match is a service-based solution focused on delivering the most qualified candidates. Monster's team of highly trained recruiters matches the job opportunity to candidates in the resume and profile database based on the requirements, and delivers them via e-mail.
Key Benefits:
Monster Match allows your customer to get the benefits of Monster's resume database at a fraction of the cost and on selective job ads.
Monster Match gives your customer a head start on finding the right candidate by screening profiles and resumes, and sending 5 qualified job seekers to their inbox within 48 hours.
Monster Match extends the reach to qualified job seekers who may otherwise miss the ads.
Monster Career Ad Network
transforms your job posting into a high-performance media campaign. This initiative maximizes your exposure by taking your existing postings and placing them on Monster's vast network and diverse partner sites to attract the most qualified seekers.
Monster Slots
Monster Slots is an innovative, flexible solution designed for customers who have consistent, ongoing hiring needs. Slots are flexible one-year subscriptions that allow your customers to rotate their job listings depending on their needs. Employers can quickly post and repost jobs as often as necessary.
Key Benefits:
Enjoy greater flexibility - Customers may post, rotate and report jobs as needed
Control recruitment costs - Streamline recruitment spend with an annual subscription
Maintain candidate flow - Build a talent pipeline for ongoing hiring needs
Manage candidates effectively - Create candidate folders for each unique position
Job Posting Auto Refresh
This product will automatically refresh the job posting at specific time periods to move it back to the top of the search results page, so it shows up first for job seekers.
There are two different purchase options:
Automatically applied to all the job postings
Purchase auto-refresh a la carte and apply to specific job postings as needed

Choose from 14-day or 30-day options
Launches job ad back to the top of Monster's job listings
Increases visibility with the latest job seekers
Job Bolding
Job Bolding is a simple and effective way to stand out from other job listings. When adding Job Bolding to job postings, the job title, company name, and location will be bold in the job search results, increasing the visibility of the job.
Key Benefits
Grabs the attention of target candidates
Drives focus to posting's job title and locations
Generates more applies